Dobrota
Listing number:

5249

Location:

Kotor

Type:

House
residential and commercial building

Price:

2.999.999 €

Area:

740m2

Yard area:

1293m2

Furniture:

furnished

Heating:

air conditioner

Phone:

1 line

Payment method:

terrase, aircondition, garage, parking, phone, catv, internet, intercom, new, lux
For sale two properties with 9 apartments and swimming pool, Kotor, Montenegro Town of Kotor Montenegro, For sale 2 buildings in Kotor with a total of 9 apartments. Area 740 m2 Plot area 1.293m2 In the smaller building there are two studio apartments of 18m2 and 19m2 with bathrooms and a shared hallway and a patio by the pool. The outside stairs lead to the first floor where there is a four bedroom apartment 114m2 (living room, 4 bedrooms, 1 bathroom, kitchen with dining area, hallway, large terrace overlooking the Old Town. On the top floor is a three bedroom apartment. In the larger building there are 5 apartments. On the first floor there are two apartments: one-room 42m2 and two-room (with two bathrooms) 72m2. On the other three floors there are three-bedroom apartments, 114m2 each (living room, three bedrooms, two bathrooms, two terraces overlooking the sea). Facilities are on plot 1293m2 (yard 695m2) There is a shared pool on the plot as well as parking for each apartment. Behind the house is a shed with a fireplace and a summer kitchen. The total area of ​​the apartment is about 700m2 (740m2 with a shed). Distance from the Old Town is about 300 meters and 4.5km from Tivat Airport.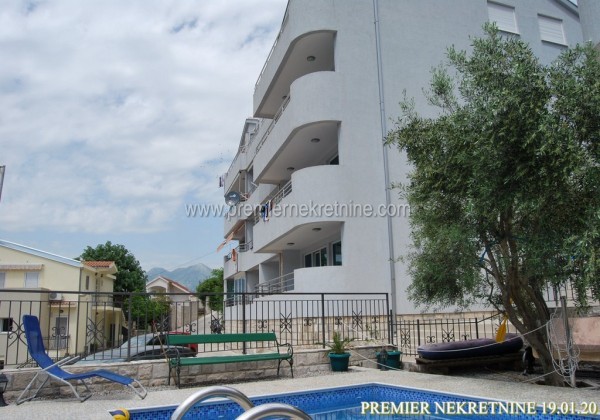 Maps
Notice:
maps is only approximate and does not show the exact location of the property,but only the street / area where it is located.