Tološi
Listing number:

5273

Location:

Dalmatinska

Type:

House
house

Price:

215.000 €

Area:

268m2

Yard area:

1000m2

Furniture:

furnished

Heating:

air conditioner

Phone:

1 line

bedrooms:

6

bathrooms:

4

Payment method:

terrase, aircondition, parking, phone, catv, internet, new, lux, salon-style, vacant
Description: Family house of 270m2 for sale. It is located on a plot of 1000m2, which is perfectly cultivated and decorated with greenery and various plants. Within the courtyard there is parking for 3 vehicles and an auxiliary facility 25m2 (summer house) and a storage room for wood. The yard is enclosed by a stone fence. The house consists of 2 identical apartments that have 135m2 each. Apartment structure: living room, dining room with access to a small terrace, separate kitchen, hallway, pantry, toilet, bedroom separated by another hallway, 3 bedrooms and bathroom, as well as a front terrace. This perfect house is located very close to the city, in a quiet neighborhood isolated from city noise. The possibility of compensation for a two-bedroom apartment for an extra charge.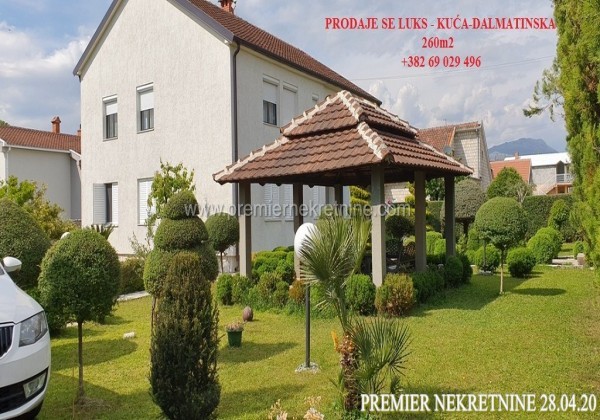 Maps
Notice:
maps is only approximate and does not show the exact location of the property,but only the street / area where it is located.